Introducing the ECS N54 Kohlefaser Luft-Technik Induction System|The Ultimate Intake
---
Crafted from hand-laid carbon fiber, the BMW E9X Kohlefaser Luft-Technik Intake sets a new benchmark in appearance and durability - all while resisting the performance-robbing effects of engine heat soak.
ECS has subjected this system to rigorous real-world testing, including power-gain measurements on our in-house chassis dynamometer.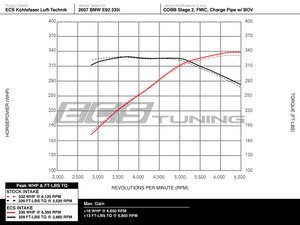 The convergence of unrivaled beauty, perfected fitment, industry-standard quality, and evidence-based performance claims has resulted in a gorgeous power-enhancer beyond anything available for your N54.
Click HERE to order your ECS N54 ECS Kohlefaser Luft-Technik Today!!!
__________________
Have questions? Need answers? Live Chat us! 8:30am to 12:00am Midnight EST
sales@ecstuning.com
|
customerservice@ecstuning.com
Customer Service Hours: M-F 8:00am-8:00pm EST|Saturday: 10:00am-7:00pm EST
Sales Team Hours: M-F 8:00am-11:00pm EST|Saturday: 10:00am-7:00pm EST |800.924.5172